Altiplano 1.

February 2011.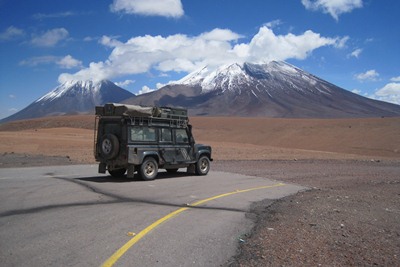 It is not asphalt anymore, but a track that leads us to the Bolivian border.

Bolivia, twice as large as France, has only 1,500 km of paved roads.
Arriving at the border post, we discover another world.

A sign on the door informs us that the border post has moved...

The barrier is still there and we open it by ourselves.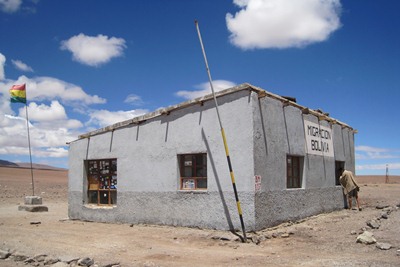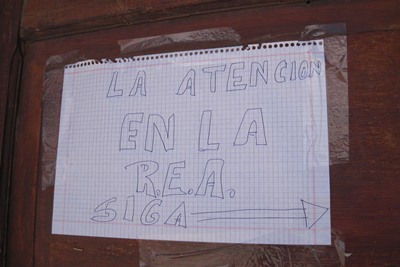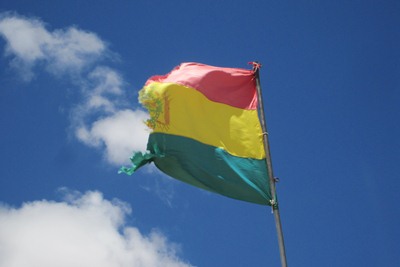 After passing the border, we go around the beautiful Laguna Blanca.





We then head towards the famous volcano Licancabour and its marvellous Laguna Verde, the muse of NASA photographers.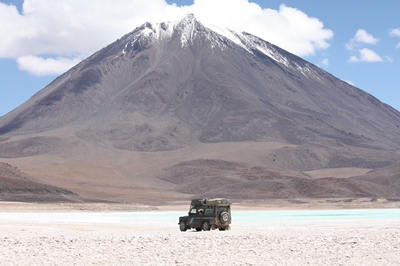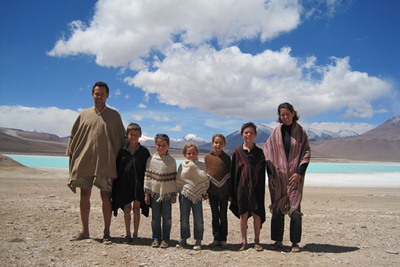 We decide to spent the night there to enjoy the colors of the Laguna at sunrise.
The night is cold but in the morning, the show is magic.









The trail passes through beautiful scenery.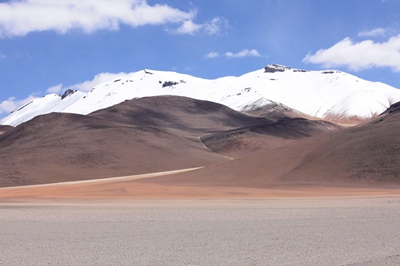 The Salar of Chalviri is covered with water, as we are in the middle of the rainy season.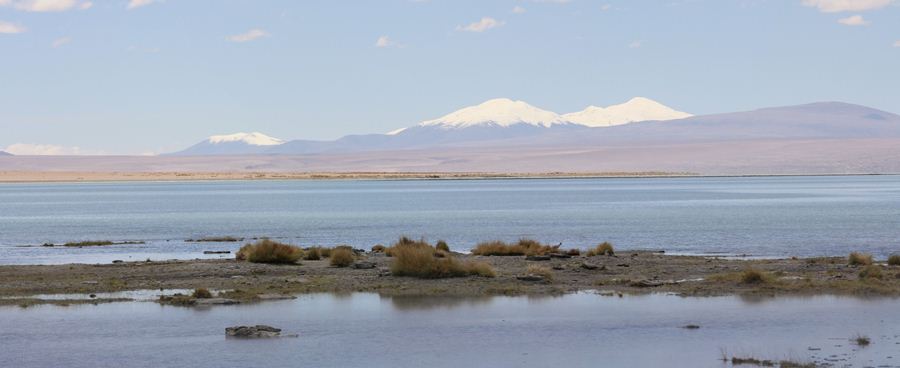 A small basin of hot water is located next to the salar.

The hot water makes us a world of good after the freezing night.


At first we were alone, then came a dozen of 4x4 full of tourists.


We meet a Canadian lady, who invites us to go see her next summer in Quebec, as well as two French students, who finish their studies in Buenos Aires.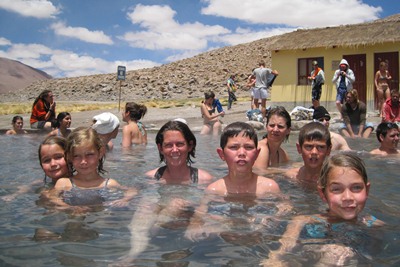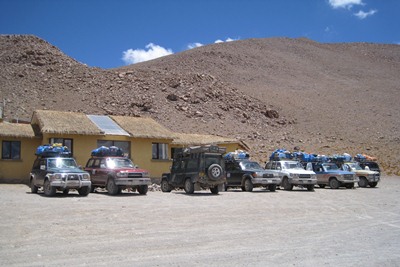 A herd of vicuna fled at our approach.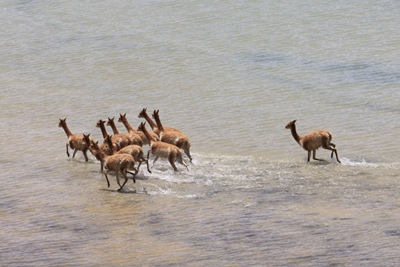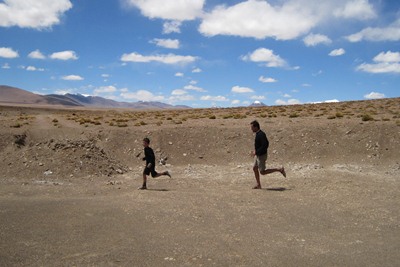 Matthew tries to catch Tugdual.

But due to the altitude, is the first time that the son manage to run faster than the father!

Matthieu promises to take his revenge in the valley.





The field of geysers "Sol de Manana" is located at 4850 meters above sea level.

From these pools of bubbling mud, comes out a bad smell of sulfur.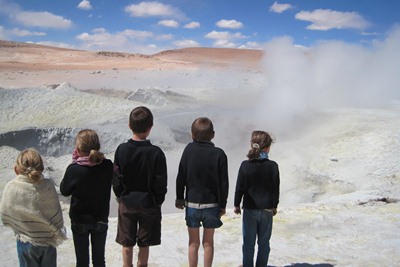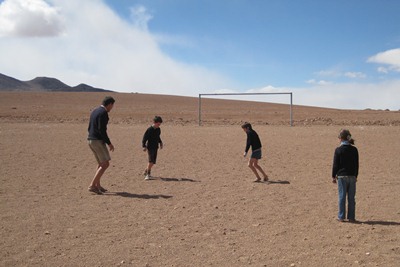 We play a football match on the world's highest football field: 5000 meters above sea level.

But after 5 minutes, the players are breathless.





In the distance, we see large clouds of steam.

Great, it must be geysers again.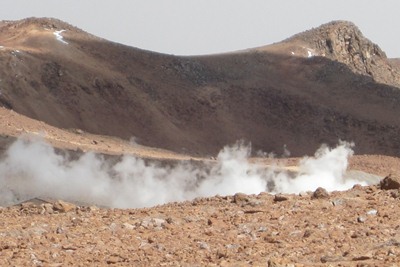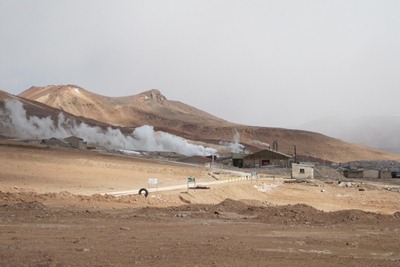 But it is actually a borax processing plant !!!

On the road, a Toyota has lost a wheel....

The Bolivian driver is really astonished when Matthieu takes out his grinder connected to an inverter to rectify the wheel spindle.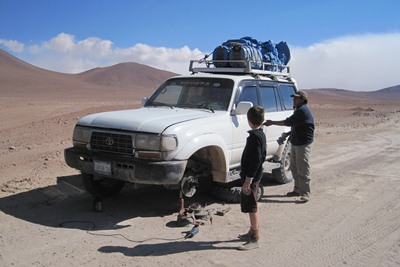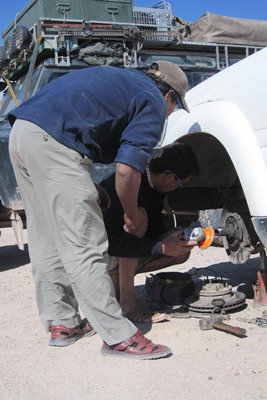 We spend the highest night of our journey at 4550 meters above sea level.

But it is bitterly cold, and at morning we have the biggest fear of our live.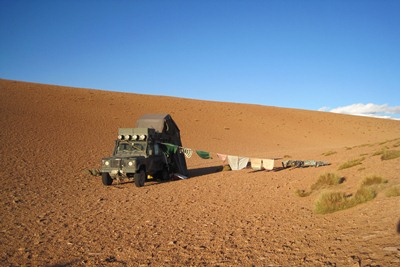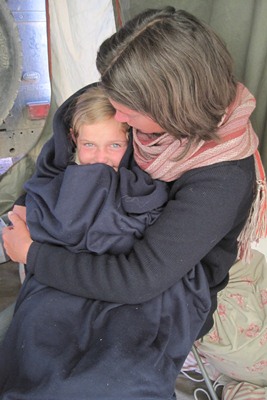 Béatrix goes out from her sleeping bag shivering, with a beginning of hypothermia.

It will take us more than one hour to warm her again.

We decide to join back the valley earlier than expected.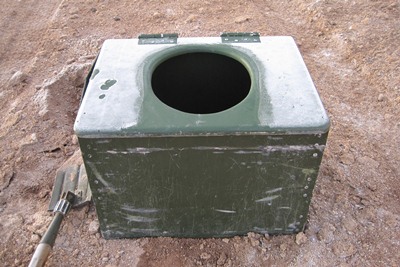 We admire the beautiful Laguna Colorada and its thousands of flamingos.