After ten days waiting in Aswan, the barge carrying the vehicles finally arrives.

In case of storm, we doubt this stones would have helped much.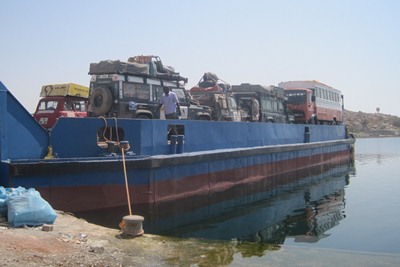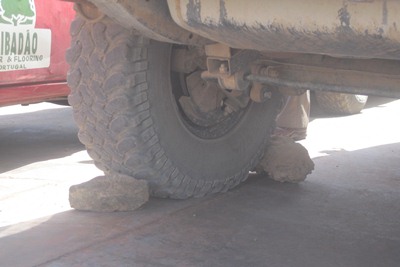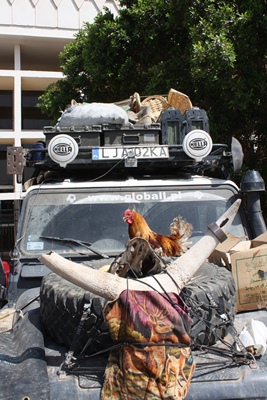 Some cars have troubles getting started.

But Demokrator, the chicken mascot of our Polish friends, did survive the three weeks spent in a car !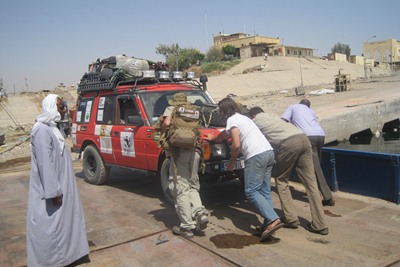 Once the vehicles unloaded, we spend the day to finish the procedures and get the famous temporary plates.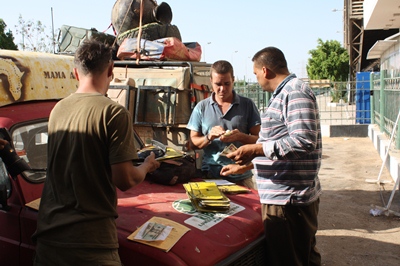 For several weeks, Egypt has been facing an acute shortage of diesel.

In the Aswan area, there is more than a day of queuing in front of petrol stations.

Thanks to our resourceful Polish friends, we are able to pass the queue with the help of the army.

Not very honest but efficient !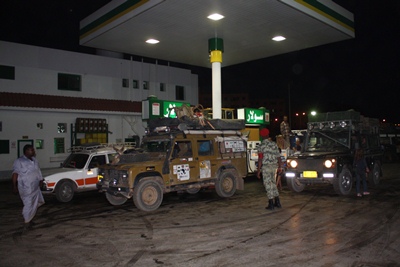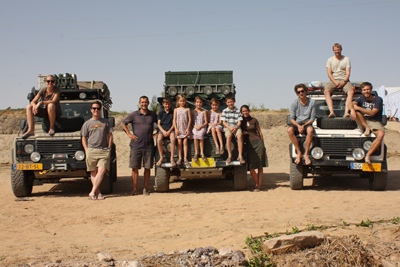 We spend the night in a campsite for overlanders, we meet Swedes and Dutch who are waiting for the boat to Wadi Halfa.

Matthieu gives some mechanical advices to Lars, Jonathan and Mathias while Andrea shows the girls the finest facilities of their vehicle.

Good trip south.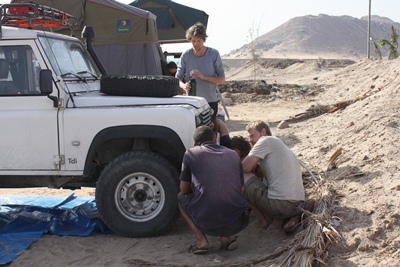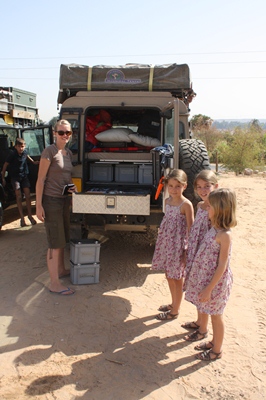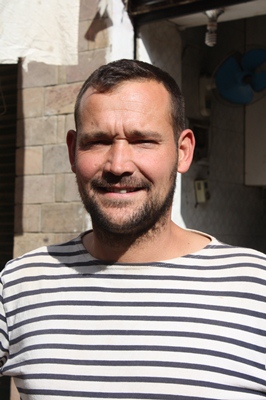 Before leaving Aswan, Matthieu decides to go to the barber.

Rather original to be shave by a a bearded man !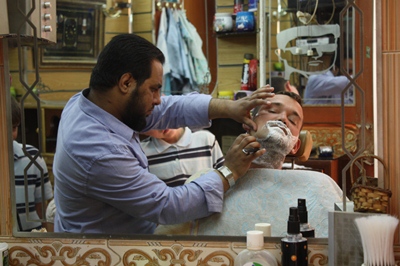 Rural scenes of the Nile Valley.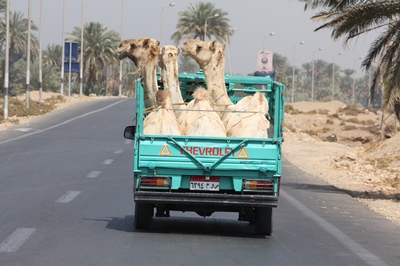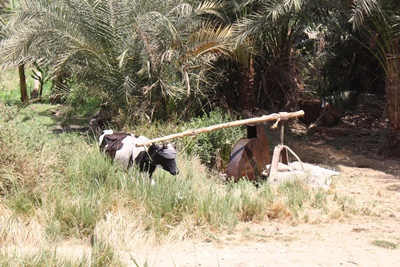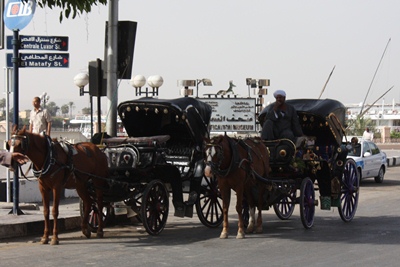 We arrive in Luxor, completely deserted by tourists since the beginning of the revolution.





Matthieu has forgotten that on April the 1st, he should protect his rear.
(A French tradition).

He goes out into the street with many fishes stuck on his back: children are dying of laughter !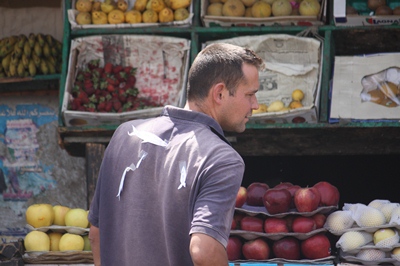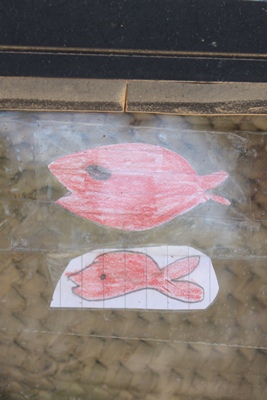 We meet again Mitt and Jo in Luxor.

Tugdual takes the opportunity to stick them a few fishes on the back.

Mitt finds it so funny that he fixes his trophies on the rear window of his car.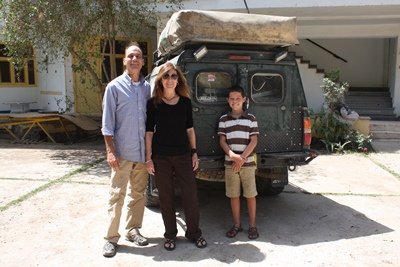 In this context of scarcity, we must keep our tanks full.

Matthieu goes all over the city at night to stock up on the black market.

With a good tip, he eventually finds a gas station attendant who fills our cans discreetly.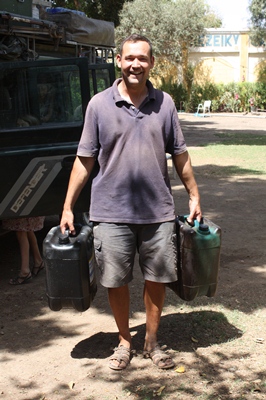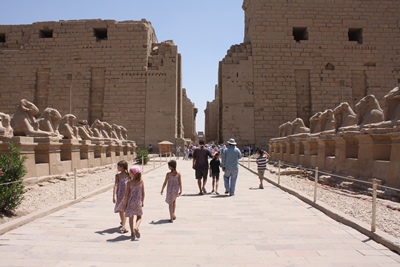 We go exploring the magnificent temple of Karnak.







We have the chance to get an excellent guide.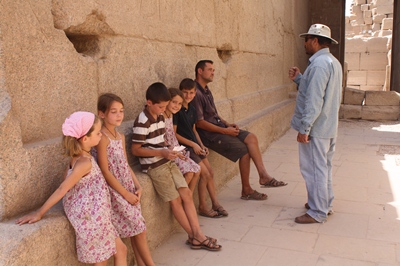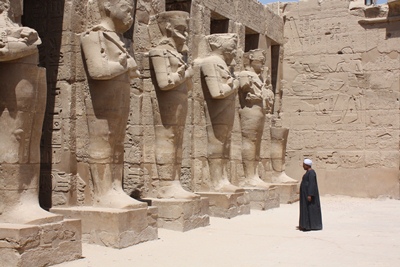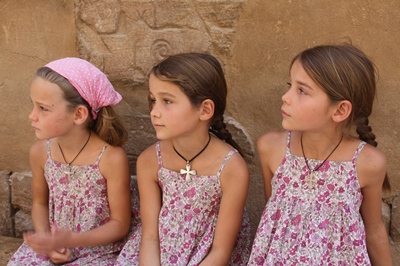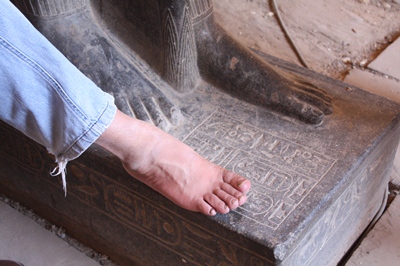 He may be related to Ramses because they both have a ... Greek foot !

He explains how the Egyptians did to transport and erect these huge blocks of stone using only embankment and ropes.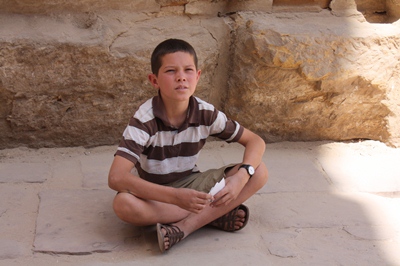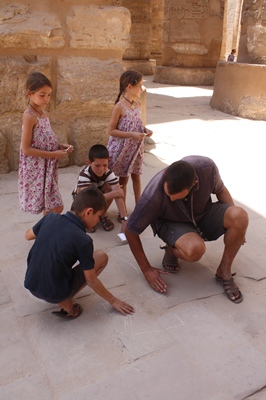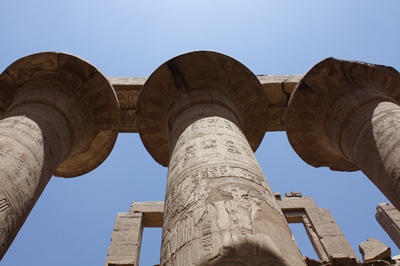 We wander a while in the extraordinary hypostyle hall made up of 134 columns, 23 meters high.

It is really impressive.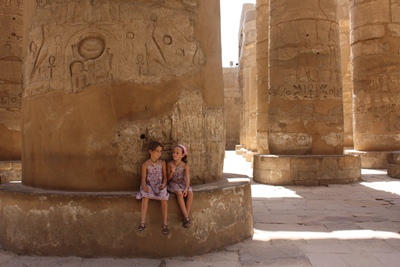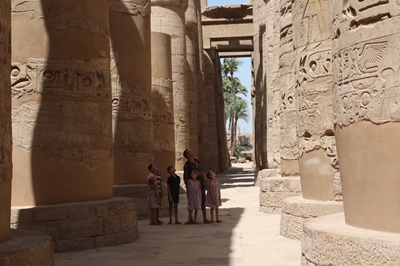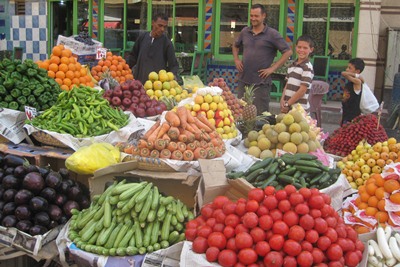 We do a final shopping before heading towards the western desert oases.